Our Committee
Stokenham Pre-School is a registered charity and managed by a Committee of parents.
A requirement of being a charitable status, is that Pre-school must be managed by a volunteer committee. So we really appreciate the time and effort our committee members give as the Pre-School relies on their commitment to maintain it's charitable status, and of course to keep up to date with all the requirements to enable the running of a successful Pre-School.
The committee meet regularly to discuss Pre-School matters including fundraising events, resources, finances and achievements, to name a few. All parents and staff are welcome to attend the meetings.
All our committee members are volunteers, and all have a DBS check in accordance with Ofsted requirements.
At the beginning of the new school year in September, we hold our Annual General Meeting where a new Committee is elected to take on the various roles and responsibilities required to support and run the Pre-School.
Please speak to any current committee member, or a member of staff to find out more detailed information. To the right is a brief outline of what becoming a committee member involves.
Committee Roles and Duties
Chairperson: Andrew Gilbert
Arrange and chair Committee meetings (6 per year – 1 each half term)
Appoint new staff as necessary and ensure relevant checks are made
Liaise between staff, Committee and the Devon Early years team
Update policies with Manager
Secretary: Melanie Shilston
Set meeting agenda
Attend meetings to record and distribute minutes
Treasurer: Scott Doswell
Manage staff wages, Oversee accounts
Manage and send out half termly bills to parents
Annual submission of accounts to Charities Commission
All committee members:  
Committee members are all required to have a DBS,sign up to the DBS update service which is free and complete an EY2 form. Committee roles include attending meetings held every half term and to help support fundraising events as much as their time permits.

Apply for DBS online at; http://ofsteddbsapplication.co.uk/step-one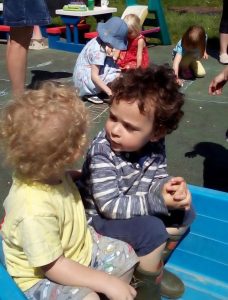 Day to day management of the setting is delegated to the Manager, Julie Dixon and Deputy, Tracy Oreilly, are responsible for curriculum planning (whole team), administration and finance, staff management and supervision, and all childcare and education matters. Julie is managed by the officers of the Committee, of Stokenham Pre-School.
All members of staff have job descriptions and contracts, referring to our grievance and disciplinary procedures, benefits and allowances. Childcare staff meet weekly to discuss the children in their care, sharing learning and advising each other of developments. Staff have annual appraisals with the Manager, and the Manager has an annual appraisal with the officers of the Committee. The Manager of the pre-school and the Deputy Manager are the staff management team, the officers of the Committee are the committee management team. Management meetings involving both teams are held every six weeks to    review and discuss day-to-day management issues and any other pressing concerns.
Our staff are appropriately qualified and we carry out checks for criminal and other records through the Disclosure and Barring services in accordance with statutory requirements. We are all also first aid trained, and attend regular training courses to keep us up to date in our own learning and development, which in turn enhances the learning we provide, for children in our Pre-school
Julie Dixon
Pre-School Manager; Deputy DSO
Hi, I'm Julie Dixon.
I am married with 2 daughters aged 20 and 18, both of whom attended Stokenham pre-school. I started working at the pre-school when my youngest daughter was here, as a parent helper. I went on to train for my NVQ 3 on the job, so have been lucky enough to see the classroom from both sides of the classroom door. As a parent, I always found the school to be welcoming, and was proud to see my daughters thrive in their environment. When I became employed in the pre-school, I took on the role with enthusiasm and commitment, as I believe that by providing a friendly, welcoming atmosphere, where each child is free to express their personalities and interests, and that through careful planning, to provide activities that will enhance children's learning, and curiosity through play, they will flourish, in their own unique way. Alongside my NVQ 3, I am also qualified in paediatric first aid, have had Safeguarding training, as well as undertaking training to help keep me up to date with Early years legislation and to enhance my
Tracy O'Reilly
Deputy Manager – Health and Safety co-ordinator
Hi I'm Tracy.
I have lived in Devon since 1986 and joined the preschool as a mother of 2 girls from 2007. I completed my training in childcare in 2009 and since then have volunteered as a treasurer for 2 years, and remain as a committee member still to this day. I continue to attend courses to improve my early years practice and keep in touch with the latest legislation and protocol with regard to the provision. NVQ 3 Children's care, learning & development.First Aid, Mini bus driver, Safeguarding children. Communication & language. Outdoor learning.
Lucy Edmonds
Senior Pre-school assistant – Designated Safeguarding Officer
Hi, I'm Lucy Edmonds.
I have worked with children since the age of sixteen as a nanny, nursery assistant, preschool assistant, afterschool clubs, Thomas cook kids world rep, preschool deputy and current position now. I have gained qualifications CACHE foundation award, NVQ level 2 and 3 in child care learning and development. I am paediatric first aid trained, level 3 safeguarding, food hygiene and have attended many more day courses and online training to support children in different areas of learning.I am passionate about my job working with children and love to share my hobbies such as cooking, singing and dancing. It's fantastic to see them grow and develop into little people ready for their next adventure at primary
Abbie Thompson
Pre-school assistant
My name is Abbie Thompson
I live in Chillington with my family. I am a former pupil of Stokenham Primary School & KCC. I studied Childcare at South Devon College, where I gained CACHE Level 2 & 3, Diploma in Children & Young People's workforce, together with Level 2 paediatric first aid. Whilst training for my Diploma, I attended Stokenham Preschool, Treetops and Tresillian Early years. During the holidays I have also worked at the Leisure centre both in the Creche and as a supervisor for the holiday camps. I have been working at the Preschool for 1 1/2 years., where I have completed courses on: coping with challenging behaviour, supporting learning in language and communication 0-4 years and safeguarding level 2. I enjoy working with the children as it allows me to support their progress/development until they go to Primary School.
Maria Blackler
Pre-school assistant
Hi I'm Maria Blackler.
I am a newly qualified NVQ level 3 Early Years Educator, it was a new course when I started in 2014, and I am from one of the first groups in the area to have completed it. I have had nearly two years work experience at Stokenham pre school, and 3 months work experience at Humpty Dumpty Childcare in Dartmouth. I have safeguarding level 1 qualifications, and have completed my paediatric first aid course. I come from a large family, and my mum was a childminder so I have always been surrounded by children. I am particularly interested in children's communication and language development, and in the future would like to look into this more. I currently also work in a local pub, and I enjoy the difference between the two jobs.I thoroughly enjoy working at Stokenham pre school, and I hope that is reflected in the environment created for the children.
Volunteers, students and parent helpers
We use Ofsted guidance on obtaining references and DBS checks through the Criminal Records Bureau for staff and volunteers who will have substantial access to children. All volunteers, students and parent helpers are supervised at all times. Where appropriate and in accordance with Ofsted guidance all volunteers, students and parent helpers complete a DBS check and are vetted by Ofsted using an EY2 form.
All visitors to the Pre-school must show valid identification and sign in and out of our visitors' book. All staff, volunteers and students are reminded of our visitors' policy to ask for independent verification of a visitors identify, and that it is better to be safe and sure, than to be at risk